On Sale this month!
Adjustable Bed – Queen Size
Our adjustable bed is the ultimate in luxury and comfort. You spend 1/3 or more in your life in bed, shouldn't you be comfortable? Promote better sleeping, less snoring, and healthy circulation. An adjustable bed is also great for watching TV, reading, working, or using your electronics in whatever position is most comfortable for you.
Our king size adjustable bed is 2 of our twin beds side by side. Why? Because this allows you and your partner to have different bed adjustments so each of you can find your perfect bed angles without disturbing your partner. Includes the adjustable bed frame, high quality mattress and wireless remote control.
You work hard, you have done well in life. Or maybe you are an athlete or sports enthusiast. Reward yourself with an adjustable bed and enjoy the comfort and health benefits of sleeping in an adjustable bed.
Muscle Recovery
Whether you are training or just want a luxurious sleep, our adjustable bed is the ultimate in sleep relaxation and comfort. Better sleep leads to better health and productivity.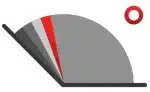 Unlimited Adjustments
Adjust your bed from perfectly flat to almost upright and any position in between. Find the perfect position for you to work, watch TV, read, relax, or just sleep and enjoy.

Remote Control
Our wireless remote with presets, manual adjustments and other comforts means you have full control of your bed from the palm of your hand.
Improve Blood circlulation for better overall health
Relieve pressure on sore muscles
Remove pain from sore muscles
Improve Sleep to recover faster from exercise
Read in a ergonomically healthy position
Watch TV without straining your neck
heavy duty tubular Bed frame
Under-the-Bed Lighting lights up the area so to assist you in getting out of bed at night
USB ports to connect your phone and other Electronic Devices (Optional)
Massage function with various adjustments for both head and Feet (Optional)
quality mattress materials including memory foam
wireless remote control

Position Presets: Zero G | Reading | TV | Sleep
Manual adjustments for ultimate position comfort
Position Memory for your favorite bed Angle Position
Built-in Flashlight
Bed Frame
Mattress
Remote Control
TWIN SIZE
38 inches x 80 inches
82 kg product weight
185kg maximum weight capacity
QUEEN SIZE
60 inches x 80 inches
95 kg product weight
250kg maximum weight capacity
Promo: Buy more than 1 bed and pay shipping for only 1 bed.
Metro Manila flat fee of 2,995
Davao 24,995
Cebu 19,995
Cavite 5,995
Batangas 9,995
Baguio 24,995
Outside of these areas contact us for updated delivery fee.
Also, if you have less expensive shipping you can use your own shipper.
Bed frame has a warranty on both parts and labor for 1 year from date of purchase
Mattress has a 6 month warranty for manufacturing defects from the date of purchase
Remote control has a 6 month warranty from date of purchase
If you have any questions about your bed regarding setup, 0peration, or features, feel free to contact our support team 7 days per week:
Ready to buy or have questions?